Volunteering event at La Tablée des Chefs
June 22, 2015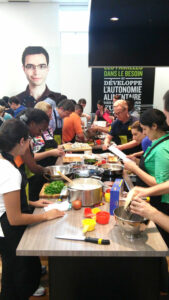 On June 16th, for the second consecutive year, the association la Tablée des Chefs welcomed 36 employees from BNP PARIBAS at the Jean Talon market, in Montreal.
This non for profit organization aims at feeding families in need and educating young generations by developing their food autonomy.
During the whole morning, the employees cooked 189 portions of food for the association la Maisonnette des Parents, a local association providing services including food distribution to needy families.
BNP Paribas is proud to be engaged in Montreal and Toronto charities, where it operates,and to contribute to the development of its local environment. This event was organized as part of the Group CSR (Corporate Social Responsibility) strategy. Earlier this year, the BNP Paribas employees devoted part of their time to the Ronald Mc Donald House in Toronto.
To find more information on the BNP Paribas CSR policy, please click here
To discover the most recent volunteering activities organized at BNP Paribas Canada, please click here