BNP Paribas present at Moisson Montréal for the Media's Big Food Drive
December 11, 2014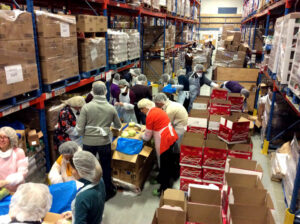 On Thursday, December 4, around forty employees of BNP Paribas helped the main Canadian food bank, Moisson Montreal, in its collection, sorting and distribution activities. In the space of half a day, the employees prepared several pallets of food boxes, which have been distributed on the Montreal's island by local community organizations.
Through its centre for collecting, sorting and distributing emergency food assistance, Moisson Montréal allocates nearly 1,000 tons of food per month to 230 accredited community organizations on the Island of Montreal. In turn, these organizations provide food assistance to 140,000 people, including 40,000 children.
These figures remind BNP Paribas of the great importance of corporate commitment within Canadian communities, and particularly along with Moisson Montreal, which operates every day with the help of many volunteers.
About Moisson Montreal:
A non-profit organization founded 30 years ago in 1984, Moisson Montréal is today the largest food bank in Canada. Moisson Montréal receives funding and supplies mainly through donations. Its operations require the collaboration of more than 7,500 volunteers each year and result in the redistribution of about $75 million worth of groceries annually.
[website title="For more information about Moisson Montreal, please click here " url="www.moissonmontreal.org/" url_display="" ]