BNP Paribas in Canada is recognized as a 2022 Top Employer in Montreal
February 15, 2022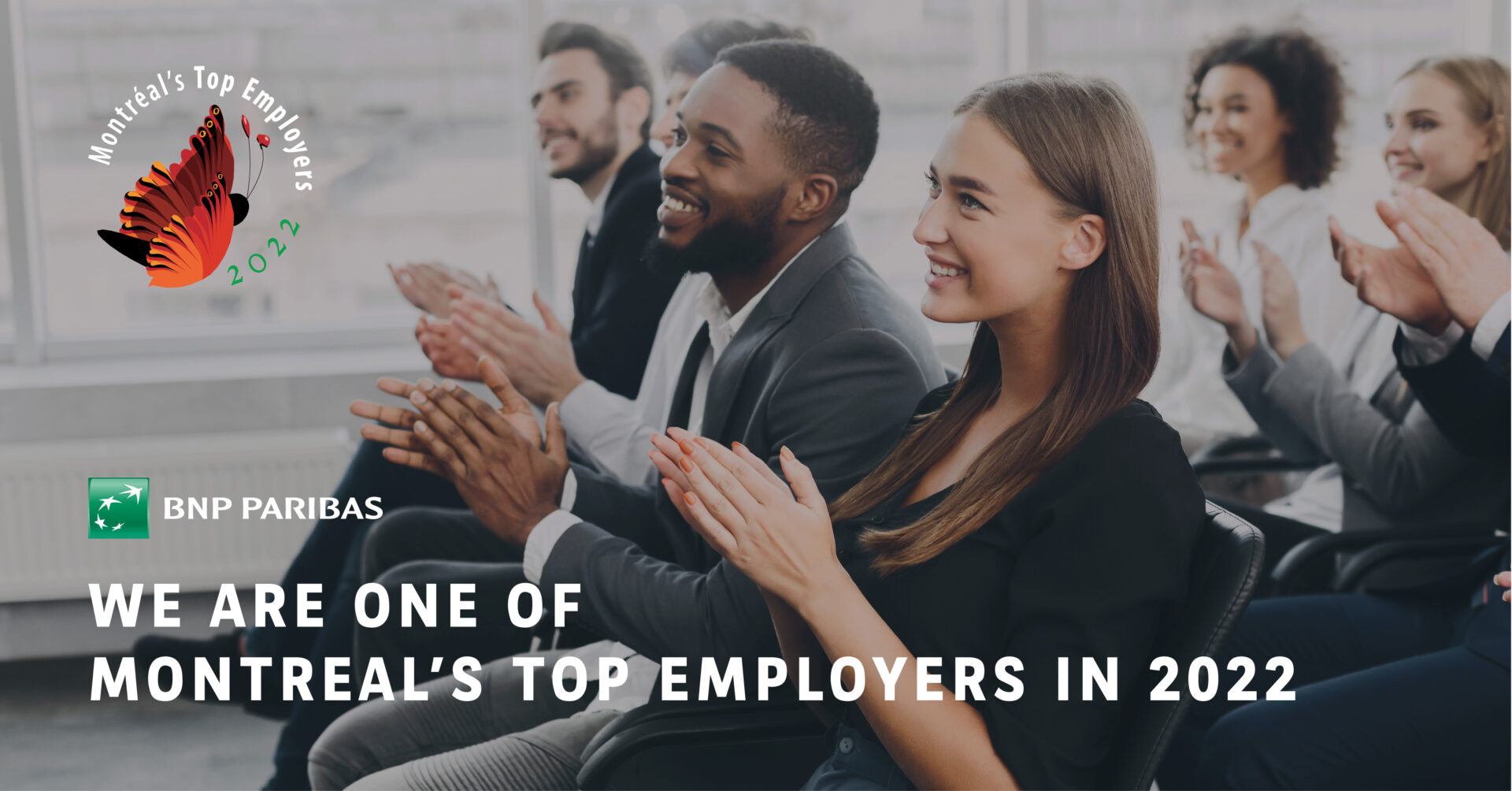 First application, first recognition
There isn't a better way to begin the New Year than with good news! We are proud to announce that BNP Paribas in Canada has been named one of the Top Employers in Montreal in 2022 by Canada's Top 100 Employers. Thanks to this prestigious acknowledgement, the bank is one 65 top employers to be recognized in Montreal.
About the competition
First published in 2006, Montréal's Top Employers is an annual honour arranged by the editors of Canada's Top 100 Employers. This special designation recognizes employers in Greater Montréal who are leaders in offering exceptional places to work based on industry standards.
Employers are evaluated using the following eight criteria: (1) Physical Workplace; (2) Work Atmosphere & Social; (3) Health, Financial & Family Benefits; (4) Vacation & Time Off; (5) Employee Communications; (6) Performance Management; (7) Training & Skills Development; and (8) Community Involvement. Employers are then compared to competitors to determine which organization offers the most progressive and forward-thinking programs.
Reasons for BNP Paribas' selection
The Montréal's Top Employers highlights the efforts made by BNP Paribas in Canada in the following areas:
BNP Paribas provided a $500 taxable benefit to help employees set up home offices at the outset of the pandemic and is developing a new flexible work model, which includes permanent options for remote work, digital tools for collaborative work, and a pilot "No Meetings in the Afternoon" on Friday program
BNP Paribas invests significantly in employee development, offering tuition subsidies of up to $4,500 annually for courses taken externally as well as subsidies for professional accreditation
BNP Paribas supports employees who are new mothers with maternity leave top-up payments, to 100 per cent of their salary for up to 14 weeks, and manages a family employee resource group to provide a forum for new parents to connect
For more details on the reasons for selection click here
Beyond recognition
The bank is proud to receive this prestigious recognition. "I am very proud that BNP Paribas in Canada was chosen as one of the top employers in Montreal for 2022," said Sonja Volpe, CEO of BNP Paribas in Canada. "Being named a top employer in Montreal validates our company as an employer of reference, and acknowledges our commitment to creating a great and positive work environment in which everyone can thrive." While this accreditation rewards our efforts, we are always striving for more progress.
The award process not only allowed us to receive valuable feedback and an external perspective of our HR strategy and policies, but also insights into the practices of other employers. However, our goal is to continue to improve the working environment of our employees and ensure they are proud of the company they work for.
We regularly have new job opportunities for motivated talent, so if you want to join one of the Top Employers in Montreal in 2022, please check out all our job offers now.