BNP Paribas continues to support the Canadian scientific community
April 10, 2014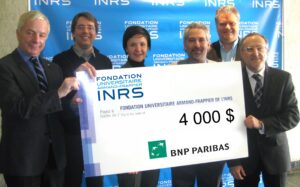 BNP Paribas is a long-standing partner of the Armand-Frappier Institute. It recently allocated 10 grants to INRS students, which will enable them to attend congresses of the International Union of Microbiological Societies. These global events will take place this summer in Montreal. It will gather experts in microbiology from the world over, including researchers from the Institut Pasteur International network.
"We are very proud to contribute to the broad reach of young researchers in microbiology of the INRS, Sauveur Menella, Vice-President, Head of communications at BNP Paribas in Canada, underlines. By supporting researchers' greatness, we participate in building a better future for our society", he adds.
"These congresses represent a unique occasion for these young grand holders to exchange on the latest developments and perspective in microbiology with the sector's big names coming from all over the world", Professor Pierre Talbot, president of the National Organizing Committee and lecturer at the INRS, mentions.
This involvement in the Armand Frappier Institute reflects the Global Corporate and Social responsibility (CSR) policy of the Group. BNP Paribas is indeed strongly connected to medical research through its partnership with the Pasteur Institute which is present in Canada via the Armand Frappier Institute.