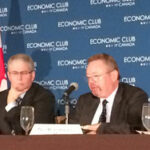 Last January 6th, BNP Paribas sponsored a panel discussion on the 2015 economic outlook organized in Toronto by the Economic Club of Canada.
This annual Economic Outlook brought together a panel of Canada's Economists from seven of the largest financial institutions of Canada, including BNP Paribas.
Paul Mortimer-Lee, the Bank's Chief Economist North America, presented his views on the economic outlook for 2015 and shared a European perspective on the global economy for the year ahead.
"Deflation in Europe will be a big headline in the coming weeks," Paul said, stressing that "currency will be a big challenge for the British and Eastern Europeans."
Later this day, Paul Mortimer-Lee was interviewed by the Financial Post on the oil price decline
BNP Paribas attended the 2015 Economic Outlook for the third consecutive year. Its presence at this event reinforces the Group's position as key player in Canada and our commitment to the region. This annual event brings together economists to provide insight, opinions, and discussion about the upcoming economic year.